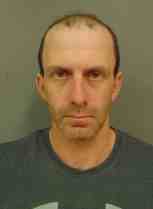 CLINTON, Ind – A Clinton man was arrested Tuesday night when police found drugs during a traffic stop.
Clinton City Police say that they stopped 42-year-old Benjamin Scott on the south side of the city just after 6 p.m. because he was having problems riding his motorcycle and he was only going about 5-mph.
Police say that his bike had fictious plates.
Scott failed a field sobriety test and police found 2 baggies of meth.
He is facing multiple charges including possession of meth, paraphernalia and DWI.
Scott is being held in the Vermillion County Jail on $10,000 bond.